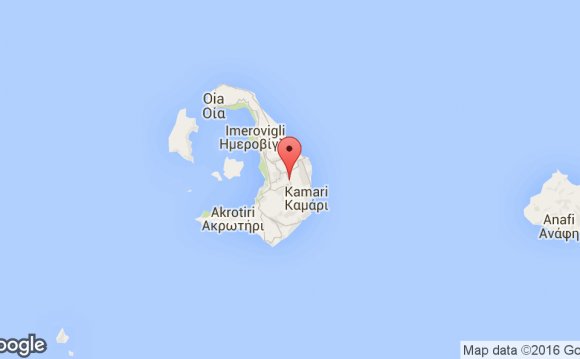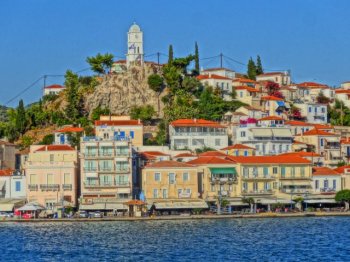 The Islands of the Saronic Gulf
The Greek Islands of Aegina, Angistri, Poros, Hydra Saronic Island Cruise which goes 364 days of the year. These islands are sheltered from the north winds so it is very rare that the seas are rough and the boats get cancelled. It also means they are warmer than the other islands during the winter and have year round tourism. The ferries to these islands leave frequently from Pireaus starting at 7am and you can spend the entire day and return in the evening. Those who prefer to stay on an island and visit the sites of Athens in the daytime can take an early boat in and be back in time for dinner. It is even possible to stay on one of these islands and be back in Athens early enough to catch an early afternoon flight home.
Aegina
If you stand on the Acropolis or the roof of your hotel and look towards the sea you will notice an island a few miles off the coast. That is Aegina, a city state in it's own right in ancient times and at times a visible thorn in the side of classical Athens. To get there take the metro to Pireaus and cross the street. Walk to your left past the buildings on the peninsula that juts into the harbor until you come to the boats that look like D-day landing craft painted white. Find the next one to Aegina. They run very frequently.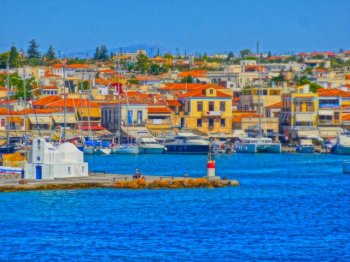 It will take you to the main town on the island, or you can take one of the boats to Agia Marina on the other side of the island. When you get off the boat just take a walk around and get to know the place. there are lots of places to eat and drink and there are beaches at Agia Marina and on both sides of the port. Go in the morning, have lunch, swim and explore in the afternoon, have dinner and take an evening boat back. Don't forget to see the ancient Temple of Aphaia, one of the most important archaeological sites in Greece. See My Guide to Aegina
For my step by step introduction to visiting a Greek Island from Athens, where I have just by chance used Aegina as my sample island go to How to Visit A Greek Island
Poros
If I as going to live in Greece and had to work in Athens, this is where I might make my home. By the same token, if I was going to visit Athens and wanted to see the sites and do the things one is supposed to do when visiting Athens, but I did not want to stay in the city, I would stay here. Poros is simply beautiful, with pine forests that come right down to the beaches, excellent restaurants, cafe life, and really nice hotels that won't break your budget. The island is about 45 minutes from Pireaus by high-speed with frequent ferry and Flying Dolphin service so you can easily make connections to other islands or come into Athens for the day. You could leave your hotel and be walking on the Acropolis in less then 90 minutes. There are days in Athens where it takes longer to get there from the Hilton. Poros is also a 3 minute boat ride from the Peloponessos with a small car ferry going back and forth every 15 minutes and small taxi boats that go back and forth 24 hours a day across a strait of sea that looks more like a river. If the idea of commuter tourism appeals to you then take a look at my Guide to Poros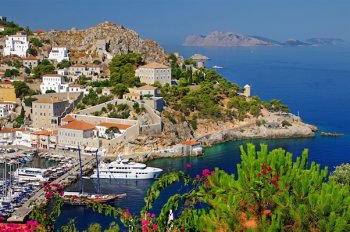 Hydra
You can spend the day on the beautiful island of Hydra, in a class of its own as far as the islands go, particularly those close to Athens. There are no automobiles on Hydra, only donkeys for hauling luggage, food, supplies and building materials up the stepped streets of an amphitheater like village that capitivated Henry Miller when he visited here during the Second World War and wrote about it in his Colossus of Maroussi. Hydra is the former home of Leonard Cohen and fans come to pay their respects, though he has not lived here in decades. Few quality beaches but who cares since there are stone platforms on the rocks, with ladders that make it like swimming in a big pool. Cafes on waterfront are for people-watching. It is a jet-setter haven and one of the more likely places in Greece to run into Mick Jagger. For good inexpensive food search the back-streets or walk down the coast. To go there wake up early and take a cab to the Flying Dolphins dock in Pireaus. Buy your ticket either in advance or through your travel agent, or from the ticket booth in Pireaus. They run fairly frequently, usually one every hour or two. Be sure to look at the schedule and buy your return ticket when you arrive in Hydra if you haven't gotten it in advance. See My Guide to Hydra for more detailed information or .
Spetses
The island of Spetses is a little further but if you leave early enough you can still do it as a day trip though in my opinion you are better off staying the night. This island was made famous in John Fowles' classic The Magus. Beautiful beaches and pine forests...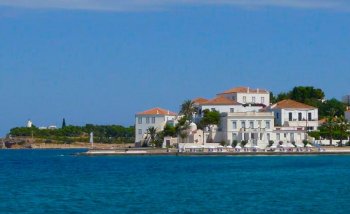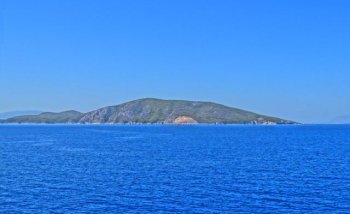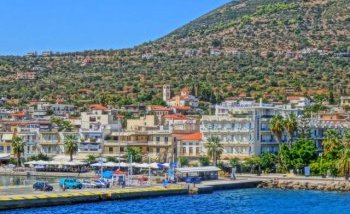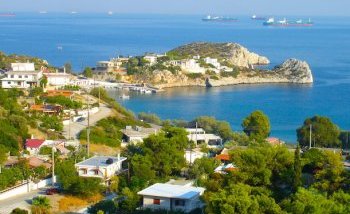 new website http://agrohimija24.ru/
YOU MIGHT ALSO LIKE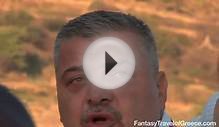 Honeymoon in Greek Islands: Athens, Mykonos, Santorini ...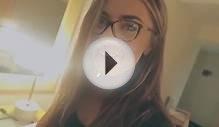 Greek Islands & Athens | CONTIKI VLOG | Danielle Mansutti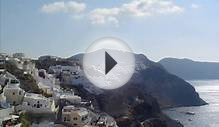 Greece And the Greek Islands Trip Pictoral
Share this Post