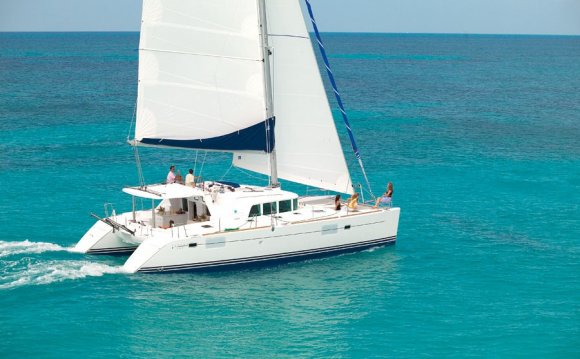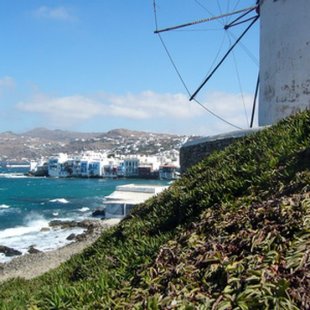 A windmill overlooking the sea in Mykonos, one of the Cyclades Islands. (Photo: moulin de mykonos image by Sébastien Closs from Fotolia.com )
Related Articles
According to the Greek National Tourism Organisation, Greece boats some 6, 000 islands and islets in the Aegean and Ionian Seas, more than 200 which are inhabited. Thus sailing and the Greek Islands go hand in hand, and numerous charter companies offer island-hopping cruises by catamaran. The itineraries generally showcase one of seven island groups, such as the Aegean, Ionian, Dodecanese or Cyclades.
Archipel Club's Paros-Paros via Santorini
The Archipel Club's Paros-Paros via Santorini cruise is a seven-day, six-night journey that calls at six of the Cyclades islands in the Aegean Sea - Sikinos, Santorini, Folegandros, Polyaigos, Sifnos and Despotiko. It is a round trip from Paros, which you can reach by plane or ferry from Athens. You will spend around two to four hours per day sailing. A typical day features breakfast on board, sailing, swimming and lunch, followed by an afternoon on the island and an evening at leisure. You will sleep and sail on a Pahi 53 catamaran, which accommodates a maximum of nine passengers as well as the skipper. It features double cabins with private bathrooms, Internet access and a 15-foot-wide swimming platform. Highlights of the itinerary include sailing in the volcanic caldera of Santorini and visiting the sixth-century church in the old town of Parikia on Despotiko. Archipel Club 84400 Paroikia Paros Greece 00-22874 archipelclub.com
Odyssey Sailing's Cabin Cruises in Greece
Odyssey Sailing presents a variety of customizable routes for its cabin cruises around the Greek Islands, including cruises in the Cyclades, Dodecanese and Saronic Gulf island groups. Departures are available from Athens and the islands of Santorini, Mykonos and Rhodes, as well as the Turkish coast. Proposed week-long itineraries include a Cyclades cruise from Mykonos to Santorini, calling at the islands of Delos, Syros, Paros, Naxos, the Small Cyclades and Ios. A typical day starts with breakfast and a four- to six-hour sail to the next island, sometimes stopping for a swim along the way. Passengers are encouraged to participate in the daily tasks involved in sailing the catamaran. Lunch is served on board, and then the afternoon is dedicated to exploring an island while the ship is docked in a harbor or remote bay. The evening features dinner in an island tavern or on board, along with a drink of ouzo while you enjoy the sunset. Odyssey Sailing Greece Antonopoulou 158 D Volos, 382 21 Magnisia Greece 00-36676 odysseysailing.gr
new website https://moiasemia.ru/
YOU MIGHT ALSO LIKE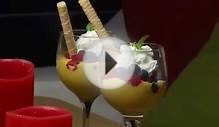 Caribbean Catamaran Vacations - British Virgin Islands ...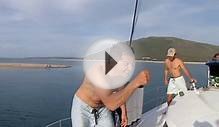 Ionian islands kitetrip with catamaran
Sailing the Greek Islands & exploreing the lost Caves ,of ...
Share this Post