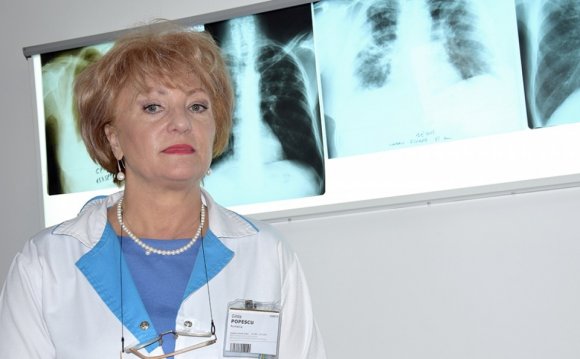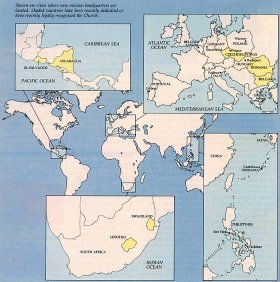 Postage Stamps Recognize Church in Cook Islands, Samoa
Over the past two years, the Church has been recognized through commemorative postage stamps issued by Samoa and the Cook Islands.
The stamps were designed by Jennifer M. Toombs of Saxmundham, Suffolk, England. In 1988, Ms. Toombs received a commission from British Crown Agents to design a postage stamp celebrating the arrival of Latter-day Saints in Samoa. Ms. Toombs designed a $3 stamp depicting the LDS temple in Samoa.
The stamp was officially issued on 9 June 1988, with an angel Moroni postmark and bearing quotes from two Book of Mormon passages: "Great are the promises of the Lord unto them who are upon the isles of the sea", and, "To him upon whom ye shall lay your hands, ye shall give the Holy Ghost".
The second stamp was issued in February of this year. It is part of a four-stamp set, each stamp recognizing a religion in the Cook Islands—Roman Catholic, Anglican, Seventh-Day Adventist, and The Church of Jesus Christ of Latter-day Saints. The stamps each depict a person and a church building representative of that religion. The LDS stamp shows Elder Osborne J. P. Widtsoe (his name, unfortunately, is misspelled), the first LDS missionary to the Cook Islands, along with a typical modern meetinghouse. Bordering the set of four stamps is the text, "Go ye therefore, and teach all nations, …
"And, lo, I am with you alway, even unto the end of the world." (.)
High-Level Work on Temple Square
Workers remove the aluminum roofing atop the Tabernacle on Temple Square. A three-month repair-and-maintenance project involving the Tabernacle and the Assembly Hall began in April. On the Assembly Hall, the spires are being repainted, and worn wood is being repaired. On the Tabernacle, the roof's aluminum panels are being repaired, and the vertical supports that hold the panels in place are being replaced. After a membrane designed to protect the supports from water damage is installed, the panels will be placed back on the roof. Despite the work, scheduled events in both facilities have not been affected; Tabernacle Choir rehearsals and broadcasts have continued as usual.
Update: Wards and Branches in the Church
As of 31 December 1989, there were 11, 536 wards and 5, 769 branches in the Church. Since 1985, the number of wards has increased by 1, 368 and the number of branches has increased by 932, for a total unit increase of 2, 300. This represents a 15-percent increase in the total number of wards and branches in the Church.
| | | |
| --- | --- | --- |
| [Year] | Wards | Branches |
| 1985 | 10, 168 | 4, 837 |
| 1986 | 10, 528 | 4, 857 |
| 1987 | 10, 909 | 5, 117 |
| 1988 | 11, 180 | 5, 356 |
| 1989 | 11, 536 | 5, 769 |
Six Countries Dedicated, Recognition Granted in Another
Shown are cities where new mission headquarters are located. [Italicized] countries have been recently dedicated or have recently legally recognized the Church.
GERMANY Düsseldorf

HUNGARY Budapest

PHILIPPINES San Pablo

BELGIUM Antwerp

CZECHOSLOVAKIA Prague

PHILIPPINES Tacloban

ITALY Padova

ROMANIA

EL SALVADOR

GREECE Athens

BULGARIA

NICARAGUA

PORTUGAL Lisbon

OKINAWA Gushikawa

LESOTHO

POLAND Warsaw

SWAZILAND
The Church's application for legal recognition was approved by the Czech Republic on February 21. Elder Russell M. Nelson of the Quorum of the Twelve had visited Czechoslovakia on February 6 to discuss with government officials the Church's application for recognition. He was accompanied by Elder Hans B. Ringger of the Seventy, President of the Church's Europe Area. President Jiri Snederfler, district president in Czechoslovakia, accompanied the two General Authorities as they met with Josef Hromadka, the nation's prime minister.
"We received recognition, not as a new church, but as a church that was established in the country over sixty years ago. This means that our members will be able to worship in full dignity, as they once did, " Elder Nelson reported. Since the Church can now buy and sell property, leaders will look for a place in which members will be able to meet. Missionaries have also returned to Czechoslovakia, he said.
Czechoslovakia was first dedicated for missionary work in 1929 by Elder John A. Widtsoe of the Quorum of the Twelve. Missionaries served there before and after World War II, but they were required to leave in 1950. There are now several branches in the country.
During a visit to Romania on February 8 and 9, Elder Nelson dedicated that country at a spot in Cismigiu Park, in downtown Bucharest. He was accompanied by Elder Ringger. In meeting with government officials, they learned of Romania's struggle to provide for a large number of orphans. As a result, the Church will send clothing and medical supplies to help.
Elder Nelson also dedicated Bulgaria on February 13. While in Sofia, the nation's capital, he and Elder Ringger met with the deputy minister of foreign affairs, Dr. Lubomir Popov, and with radio, television, and newspaper executives.
Swaziland, an independent mountain kingdom bordered on three sides by South Africa, and by Mozambique on its eastern side, was dedicated on February 21 by Elder Neal A. Maxwell of the Quorum of the Twelve. He offered the dedicatory prayer on a hilltop overlooking Mbabane, the capital city.
Elder Maxwell also dedicated Lesotho, an independent kingdom surrounded on all four sides by South Africa, on February 22 at a spot near Maseru, the capital city. "We are a small group here today, but we are being watched by a large group. Angels are aware of this moment, " he said in his remarks.
Nicaragua was dedicated by Elder Scott near Managua, the capital city, on April 9. He gave the dedicatory prayer in Spanish as Elder Nelson and twenty-six local members gathered to listen at a spot near a dormant crater in Masaya Volcano National Park.
YOU MIGHT ALSO LIKE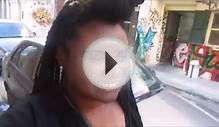 Vlog #14 Spring Break in Greece - Athens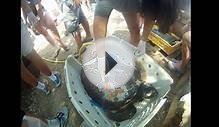 Semester at Sea: Greece: Crete 7/8-9/13 Athens,Santorini 7 ...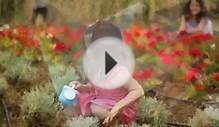 Grichenland Hotel Grecotel Cape Sounio Athens, Greece ...
Share this Post