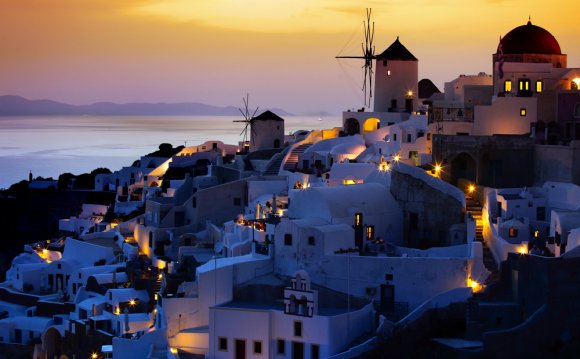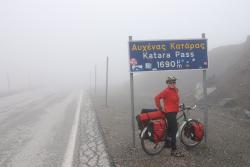 Capital: Athens
Currency: Euro
Population: 10.7 million
Food: Donairs
Drink: Frappe ice coffee
Warning: Nasty sheepdogs
The country is very hilly and hard work on bicycles but it also offers some great wild camping opportunities and we found the people very hospitable. The north is not touristy overall but the town of Meteora attracts many visitors with its monasteries on the top of stone pillars.
Our tour started when we landed from Italy at the port town of Igoumenitsa. From there we made our way across the Katara pass, down to Meteora, around Mount Olympos then up the coast to Thessaloniki and along the water all the way to Kavala and Alexandroupoli before heading northeast to the border with Turkey. The ride along Mount Olympus is a must; beautiful views of the famous peak and a great downhill run to the sea if you are heading towards Thessaloniki. Meteora was also well worth a visit to see the monasteries, even if you do have to jostle with hundreds of other tourists.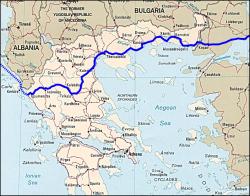 The roads were in decent condition for the most part although sometimes the heavy truck traffic and heat had worn grooves into the pavement. Occasionally we also found dirt roads, which were supposed to be hard packed, were actually in very bad shape and not rideable. Our map was a 1:500 000 scale map published by Road Editions. It covered the whole country and was generally pretty good. Distances were accurate. It did not, however, give indications of grading. Some small communities were not listed on the map.
OUT THERE IN GREECE
Both our challenges and our pleasures in Greece came from the remote terrain. Wild camping was often necessary but no problem at all and very scenic. You can always pitch a tent on the grounds of the orthodox churches or sleep in the open air on the benches they have on covered outdoor terraces. There will be water in most church grounds. Just be discreet and respectful. On two occasions, we were invited to stay in people's homes.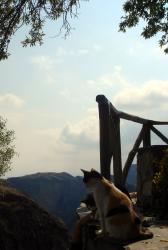 We found it challenging to locate enough water and because of the mountainous terrain we had to allow more time than we would otherwise to cover a set distance. If wild camping isn't your thing you may want to head for the more populated southern half of Greece where there are far more campsites and hotels.
WATCH THE DOGS
Sheepdogs were another disagreeable aspect of going through rural Greece. We didn't see any wild dogs but the sheepdogs can be very aggressive. Give any flocks of sheep a wide berth and if you are approached by dogs stop cycling – unless you are on a great downhill run of at least 30km/hour. Stand your ground and look tough. Don't show fear. Shout back and motion like you are going to throw something at them. Pick up rocks to use as weapons. Use your bike as a shield and walk slowly past them. If the shepherd is around he can call the dogs off but sometimes he wanders away.
Greece isn't the budget destination we remembered it as from our trip there a few years back. The campgrounds ran between €14-20 euros a night. We heard that you could get hotel rooms easily from €20-40 a night and this was probably true in more rural areas but in Thessaloniki we paid over the odds for city centre accomodation. A coffee or frappe ran anywhere between €1.20-2.50 each. You can get street food for €10-15 for two people (kebabs or souvlaki and drinks). Internet access was fairly cheap, with plenty of places offering it at €1 an hour.
YOU MIGHT ALSO LIKE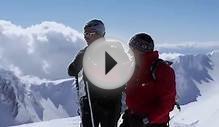 Ski touring in Greece, 3 friends/3 couloirs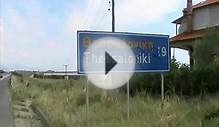 Bike Touring - Greece. Mount Olympus to Bulgaria 7-2010
Bicycle touring- Greece
Share this Post