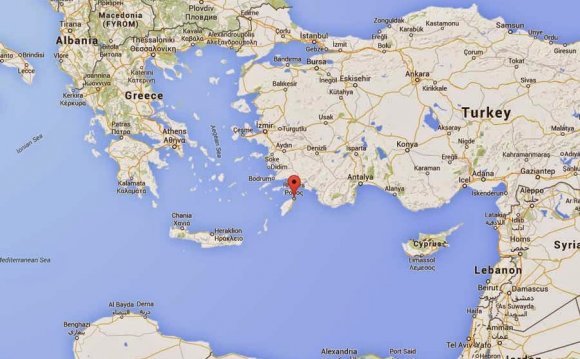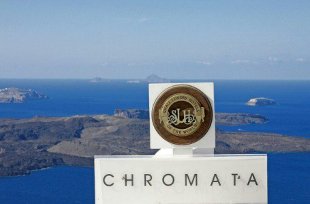 Averages for Santorini in May
Weather lowdown
May is one of the best times of the year to visit Santorini, Greece, when the temperatures are high and the chance of rain is low. Not only is the weather great during this month, but the island will also be relatively quiet compared to the busy summer months, resulting in cheaper accommodation, flight, restaurant and attraction prices.
Throughout the month, the average temperature for Santorini begins at 18°C on May 1st and works its way up until it reaches 22°C by May 31st. Daily highs and lows follow the same pattern, increasing from 21°C to 25°C and from 15°C to 19°C, respectively, as the month progresses.
With average temperatures as warm as these, you'll need to pack plenty of light and airy clothing to ensure you're comfortable whilst on holiday. You won't need much more than shorts, skirts, dresses, t-shirts and swimming gear during the daytime, although you might want to bring a pair of jeans or trousers and a light jacket for the evenings, in case it's a bit cooler than expected. Whatever the weather forecast is, make sure you pack plenty of sunglasses, hats and suntan lotion so your holiday isn't spoiled by sunburn or heatstroke.
Although it only happens on rare occasions, temperatures can sometimes rise above 28°C or fall below 13°C during this month in Santorini. In recent times, the hottest May day ever recorded on the island saw temperatures rise up to 34°C. On the other hand, the coldest May day ever recorded in Santorini saw temperatures fall down to 9°C.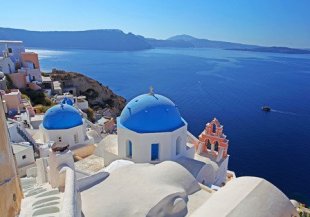 Across May, Santorini receives an average of 10.5mm of rainfall which is spread out between three rainy days. With such an insignificant amount of precipitation falling on such a small number of days, you probably won't see as much as a drop of the wet stuff at all during your holiday in Santorini.
The probability of precipitation occurring on any given day in Santorini in May decreases as the month progresses. Rainfall is most likely to appear around May 1st, when it falls on 16% of days. On the other hand, rainfall is least likely to happen around May 31st, when it only falls on 8% of days. The most likely types of precipitation you can expect to see during your May holiday are light rain, thunderstorms and moderate rain.
Throughout May, Santorini enjoys an average of 12 hours of sunshine every day – that's one hour more each day than in April. With so many sunshine hours to enjoy every single day, you'll have endless opportunities to get out and about for a bit of exploring or take it easy and work on your tan by the pool or at the beach.
If you do plan on hitting the beach whilst on holiday, you'll be pleased to hear that the average sea water temperature for the beaches in Santorini in May is 19°C. This average temperature makes May the first month of the year when it's warm enough to go swimming. If you still think the water is a bit too cool for a dip, there are plenty of indoor and heated swimming pools around Santorini where you can enjoy a much warmer swim.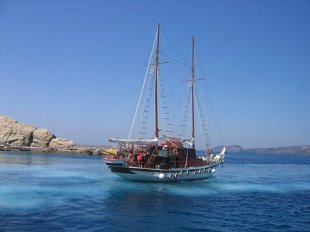 Throughout May, the length of the day in Santorini is steadily increasing, with a difference of 46 minutes between the beginning and the end of the month. May 1st is the shortest day of the month with 13:42 hours of daylight, whilst May 31st is the longest day of the month with 14:28 hours of daylight.
Across May, the relative humidity for Santorini ranges between 50% (comfortable) and 85% (humid), rarely going above 97% (very humid) or dropping below 36% (comfortable). On average, the most humid day of the month is around May 15th, when the average daily humidity rises above 79% three days out of every four. At the other end of the scale, the least humid day of the month is usually around May 31st, when the average daily humidity falls below 57% three days out of every four.
During the month, usual wind speeds in Santorini fluctuate between 0 m/s (light air) and 8 m/s (fresh breeze), almost never exceeding 12 m/s (strong breeze). The highest average wind speed of 5 m/s (gentle breeze) happens around May 1st, when the average daily maximum is 8 m/s. On the other hand, the lowest average wind speed of 5 m/s occurs around May 19th when the average daily maximum is 7 m/s (moderate breeze).
Sea view in Santorini, Greece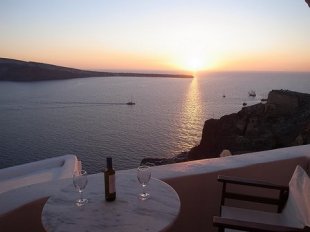 Where to stay
When it comes to affordable accommodation in Santorini, Costa Marina Villas are a popular choice. Located just a short walk away from Fira, this complex is ideally located for families and couples who want to explore the island. Here you'll find a choice of double, triple and quadruple rooms, guaranteeing something for all group sizes. There are plenty of services and facilities available onsite, including free WiFi access, excursion booking, car rental and daily housekeeping.
For something a bit more luxurious, consider staying at Chromata Hotel. This five-star hotel is situated in Imerovigli and is one of the most stylish hotels on the island. Here you'll find accommodation available in the form of double rooms, junior suites, senior suites, superior suites, honeymoon suites and Chromata suites, each of which boasts sea views. Guests are encouraged to take full advantage of the services and amenities available onsite, including cocktail bar, lounge restaurant, exclusive restaurant, infinity pool, Jacuzzis and internet access.
Aria Suites are another great choice for holidaymakers looking for top end accommodation in Santorini. Situated in Fira, this boutique hotel is made up of only a small number of suites to maximise intimacy and customer service. Guests can choose between various different suites, each of which features a minibar, fridge, air conditioning, free WiFi access and personal Jacuzzi. Onsite services and facilities include swimming pool, solarium, pool bar, massage and beauty therapies, hair salon and concierge.
Things to do
Santorini is internationally renowned for its sunsets and the island's lighthouse is one of the best places from which to enjoy them. You can drive up to this site and park a short walk away or cycle straight up to it, depending on how energetic you're feeling. The lighthouse – known locally as 'Faro' – marks the end of the island and is surrounded by volcanic rock and pine trees, making for a very picturesque setting. If you arrive an hour or so before sunset, you'll have the opportunity to snap a few photos whilst the sea is bright blue before the sun begins to set and everything gets drowned in orange and red hues.
The Monastery of Profitis Ilias is one of the most-visited churches on the island, making it a must during your holiday. Located in Pyrgos, the simple stone church features traditional Greek-style architecture and offers fantastic views of the island below, so make sure you bring your camera with you. You'll definitely need a car to visit the site – the Monastery of Profitis Ilias is located on a very tall hill – and unfortunately, visitors aren't allowed inside the monastery, so you'll only be able to enjoy it from the outside.
YOU MIGHT ALSO LIKE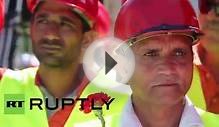 Greece: Yanis Varoufakis hugs protester at May Day demo in ...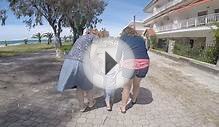 Greece Holiday May 2015 Final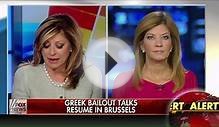 How Greece debt crisis may impact your investments
Share this Post